THE SINGERS – COVENTRY WEEKEND
SATURDAY 19 OCTOBER and SUNDAY 20 OCTOBER 2019
Coventry sits in the heart of England and is perhaps best known for its Coventry Carol and Lady Godiva. Today it is a bustling city with a lively creative populace and a famous mix of old and new architecture. Indeed, it is going to be UK City of Culture 2021.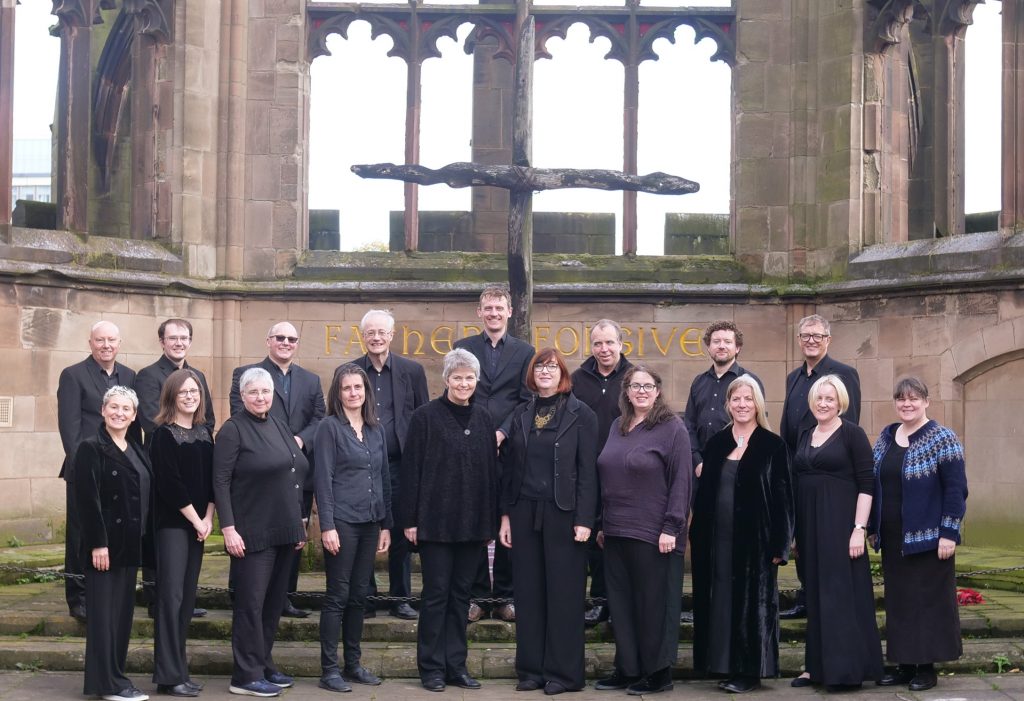 The Singers sang in one of Coventry's oldest churches and its impressive cathedral in October 2019. Holy Trinity Church, which dates from the 12th century, was destroyed by fire in 1257 but, amazingly, survived the Blitz in 1940. The must see is the painting of the Last Judgement dating from the 1430's. The Singers gave a well attended concert here at 4 pm on Saturday 19 October.
The concert included a performance of Edmund Hunt's amazing Vita Hominum which we premiered in Newcastle in December 2018. The premiere was recorded and broadcast by BBC Radio 3 last January and we have since performed it in Durham Cathedral and St Giles Cathedral in Edinburgh. We a created a special performance of this piece in the nave of Coventry Cathedral on Sunday 20 October at 2.30 pm.
Coventry Cathedral is one of the most iconic buildings of the 20th century. The previous cathedral was destroyed during the Blitz along with much of Coventry. It was rededicated in 1962 when Benjamin Britten's War Requiem was memorably premiered and broadcast live. The Singers sang the services here on Sunday 20 October for the 10.30 Sung Eucharist and the 16:00 Choral Evensong.
We had a wonderful time, and it was a great joy to be able to sing in these two beautiful churches.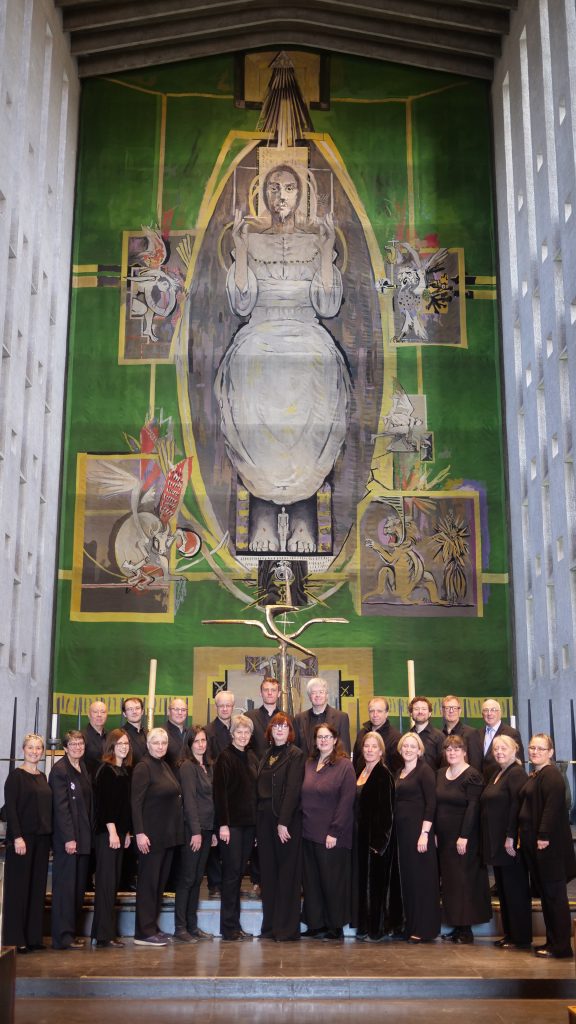 Coventry Programmes

CONCERT in
HOLY TRINITY, COVENTRY
Saturday 19 October 2019, 4 pm
PROGRAMME (download the programme from here)
O sing joyfully – Adrian Batten (1591 – 1637)
Jesu, joy of man's desiring – J S Bach (1685 – 1750)
Two Introits on Icelandic Texts – Lisa McMaster
Ascendens Christus in altum – Tomas Luis de Victoria (1548 – 1611)
Ave verum Corpus – Peter Philips (c.1560 – 1628)
God so loved the world – John Stainer (1840 – 1901)
Locus iste – Anton Bruckner (1824 – 1896)
Vita Hominum – Edmund Hunt
Schweigend sinkt die Nacht – Fanny Hensel (1805 – 1847)
SUNDAY SERVICES in COVENTRY CATHEDRAL
Sunday 20 October
Eucharist 10.30
Communion Service in E – Harold Darke
Motet: Ave verum Corpus – Peter Philips
Special performance 14.30 – 14.46
Vita Hominum – Edmund Hunt
Coventry Cathedral Nave – free, informal, exciting and immersive!
Choral Evensong 16.00
Introit: Open Thy Gates – Julius Harrison
Preces and Responses – William Smith
Psalm 4 – Chant by Wesley
Magnificat: Meine Seele erhebt den Herrn – Heinrich von Herzogenberg
Nunc Dimittis: Gustav Holst
Anthem: Locus iste – Anton Bruckner