BBC RADIO 3 FEATURE
Listen to the BBC Radio 3 feature on Vita Hominum with contributions from choir members, composer Edmund Hunt and conductor Donald Halliday.
https://www.bbc.co.uk/sounds/play/p06ys5p2
---
REVIEW
Sam Campbell is a student at the University of York and the older brother of Aidan Campbell who sings tenor with The Singers. Sam joined the audience for the first performance of Edmund Hunt's Vita Hominum last December. Afterwards he reviewed the work for Unknown Magazine.
Navigating the Sublime: Sam Campbell's Review of Vita Hominum
---
BBC RADIO BROADCAST OF FIRST PERFORMANCE
Hear the BBC recording of The Singers giving the premiere of Edmund Hunt's Vita Hominum in St George's Jesmond, Newcastle in December 2018.
---
SUBSEQUENT PERFORMANCES
Durham Cathedral – Sunday, 6 January 2019, Epiphany, 2 pm
St Giles Cathedral, Edinburgh – Sunday, 14 July 2019, St Giles @ 6
Holy Trinity, Coventry – Saturday, 19 October 2019, 4 pm
Coventry Cathedral – Sunday, 20 October 2019, 2.30 pm
Edmund Hunt, Donald Halliday and Fraser Trainer in London at Making Music, September 2017. Fraser was the mentor for our project.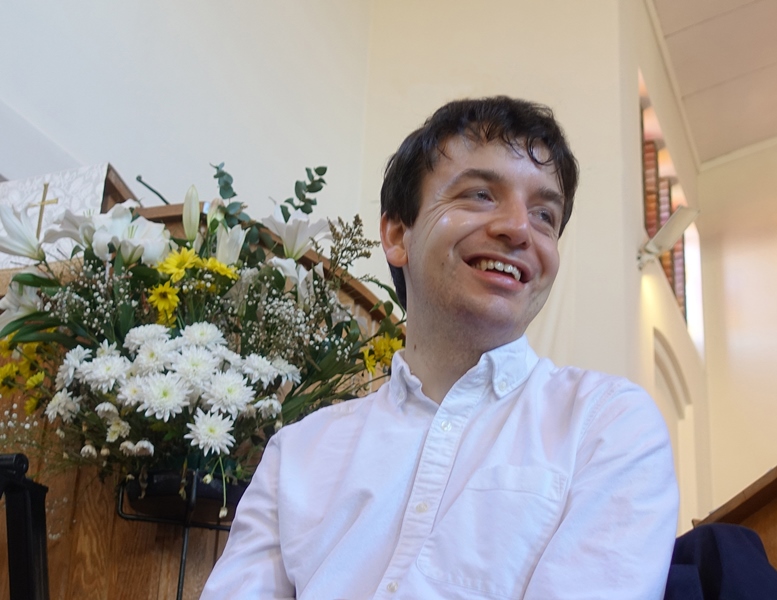 Edmund in St Mary Magdalene, April 2018