Christmas with The Singers 2018
This concert took place on 15 December 2018. The concert was recorded by BBC 3 and extracts were broadcast in January 2019.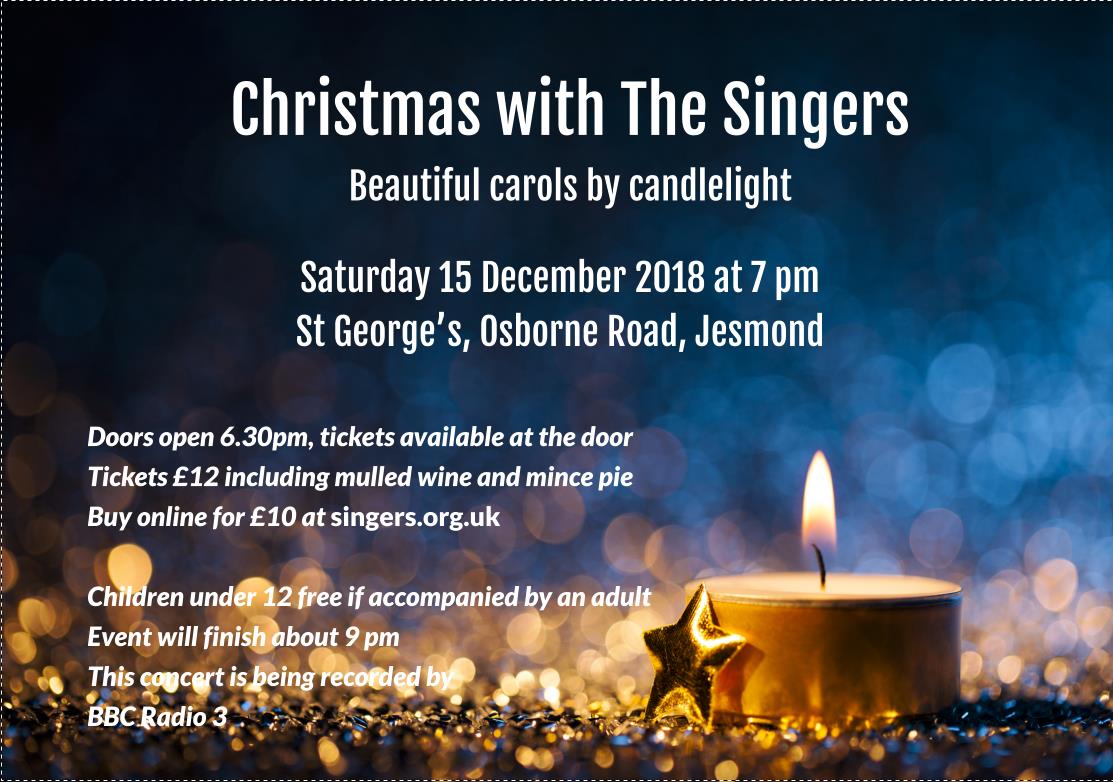 ---
Coffee Concert in All Saints, Rothbury
And so it goes …. Beautiful music for an Autumn Day
All Saints Church, Rothbury
Saturday 20 October 2018 12 noon
Refreshments from 11.30 am
---
2018 Annual Concert in St Mary Magdalene
We gave our annual Afternoon Tea Concert in St Mary Magdalene, Longbenton on Saturday 12 May 2018. We always enjoy this concert. It's good to contribute something musical to the church in which we rehearse, and great to meet friends and the local community informally.
We also included a sneak preview of part of the new work being written for us by our adopted composer Edmund Hunt – a stand alone section of the more extended work we will be premiering in December. Edmund was there to introduce his piece and both he and the music were warmly received.
We also had some community singing following last year's innovation, and, again, the result was amazing.
As always there were scrumptious cakes, tea and coffee provided by the congregation! Many thanks to Pat, the vicar, and all the volunteers who made the afternoon such a success.
---
April rehearsal weekend with our adopted composer
We had a great couple of rehearsals in our April weekend. The beautiful sunshine and warmth was a very welcome break in the long spell of cold weather we've been having. As part of our Adopt a Composer project* our 'adopted composer' Edmund Hunt was with us and brought another movement of his new work for us to start work on.
This is turning out to be a very enjoyable and rewarding partnership. Edmund is completely dedicated to the project and is writing music of high quality and interest. This is being reciprocated by massive enthusiasm and commitment from The Singers. We'll have more news for everyone in due course, and we're on schedule for a premiere in Newcastle in December with the new work scheduled for broadcast on BBC Radio Three in January 2019.
Here's a photo of Edmund enjoying the weekend.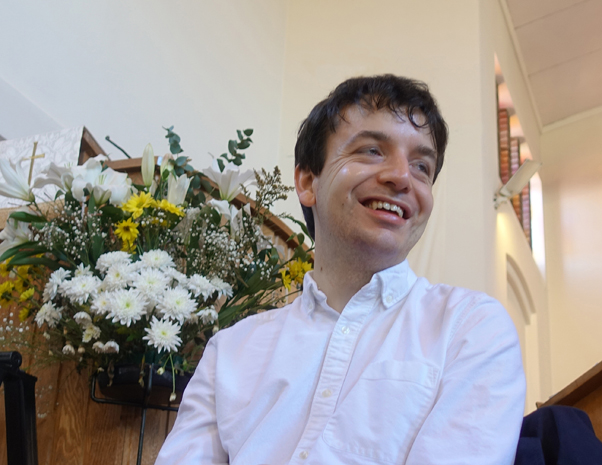 Edmund Hunt
Of course, no matter how hard we're rehearsing there's always time for some coffee and cake!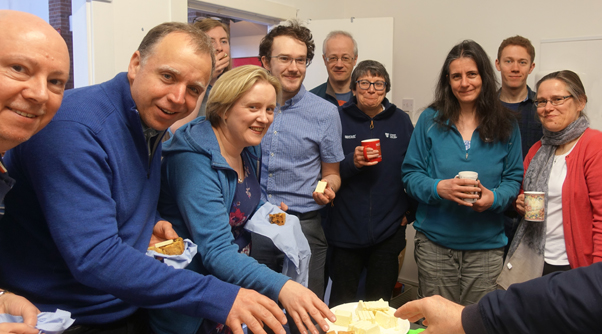 As well as working on Edmund's music we looked at some pieces by the 18th century Austrian composer Heinrich von Herzogenberg and the contemporary Norwegian composer Kim André Arnesen. We'll be including some of this in our May 'at home' concert in St Mary Magdalene at 2 pm.
* Adopt a Composer is run by Making Music in partnership with Sound and Music, in association with BBC Radio 3, and funded by PRS Foundation and the Philip and Dorothy Green Music Trust.
---
Wedding at Brinkburn Priory
We were delighted to be asked to sing at Eve and Ed's wedding in Brinkburn Priory in March. It turned out to be a very beautiful day in all respects. The sun shone and the setting was stunning. Eve and Ed both looked radiant.
We sang music by Batten, Tallis, Bach, Durufle and Whitacre as well as songs by Robert Burns and Billy Joel. Many thanks to Marc Bryant who played the organ. Here's a photo we took outside the Priory.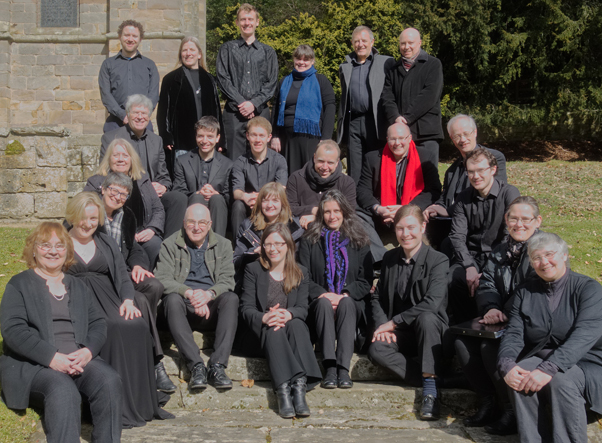 ---
Epiphany at Durham Cathedral – 2018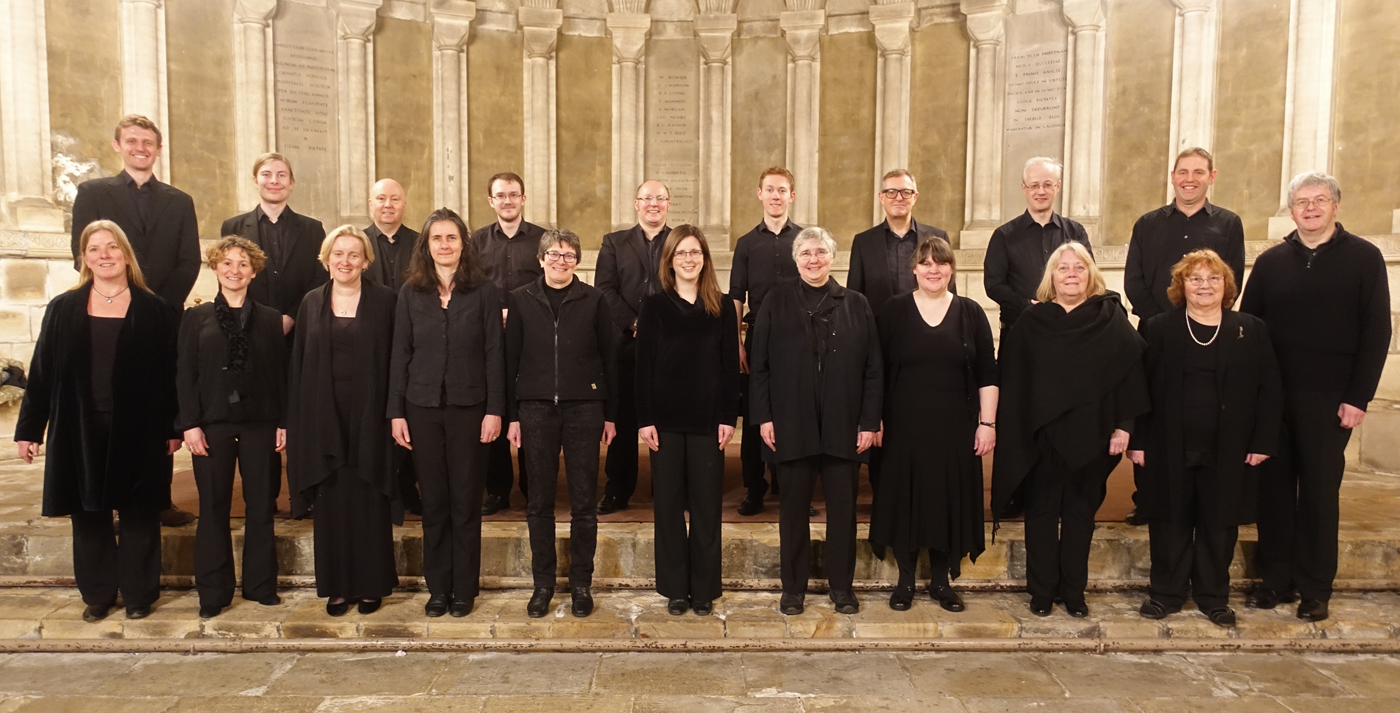 The Singers sang for the service for the Epiphany at Durham Cathedral on 6 January 2018. We have sung this service for the last 21 years now! We were joined by Kris Thomsett who played the organ beautifully throughout. We sang Darke's Communion Service (Collegium Regale) and Poulenc's Videntes Stellam.
---
Christmas with The Singers – 2017
The Singers presented a very successful Christmas Concert in St George's Church, Jesmond on Saturday 16 December 2017. We were joined by Oscar and Edgar Ho (classical guitar and piano respectively) from Morpeth and by our adopted composer, Edmund Hunt. We sang a short piece by Edmund and he accompanied us on the Northumbiran Pipes.
We are grateful to The Friends of St George's who organised the mulled wine and mince pies at the interval.
---
We've adopted a composer!
We're absolutely thrilled to announce that we have been selected for the 2017/2018 Adopt a Composer scheme run by Making Music.
This enables a pairing between The Singers and Edmund Hunt, a young and up and coming composer, for a year to produce a new work which will be premiered on BBC Radio 3.
Edmund has musical connections with Newcastle. He did his MMus at Newcastle University and has just completed his PhD at the Birmingham Conservatoire. His composition 'Argatnél' was performed recently by the London Philharmonic Orchestra in the Queen Elizabeth Hall, London, and was reviewed in the Telegraph as 'the most delicately beautiful piece of the evening'.
Our mentor for the project will be Frazer Trainer, a composer who teaches at the Guildhall School of Music and Drama.
Adopt a Composer is run by Making Music in partnership with Sound and Music, in association with Radio 3, and funded by the PRS foundation and the Philip and Dorothy Green Music Trust.
We're really looking forward to working with Edmund and Fraser.
The photograph shows (left to right) Edmund Hunt, Donald Halliday (our conductor), and Fraser Trainer at the Announcement Ceremony in London.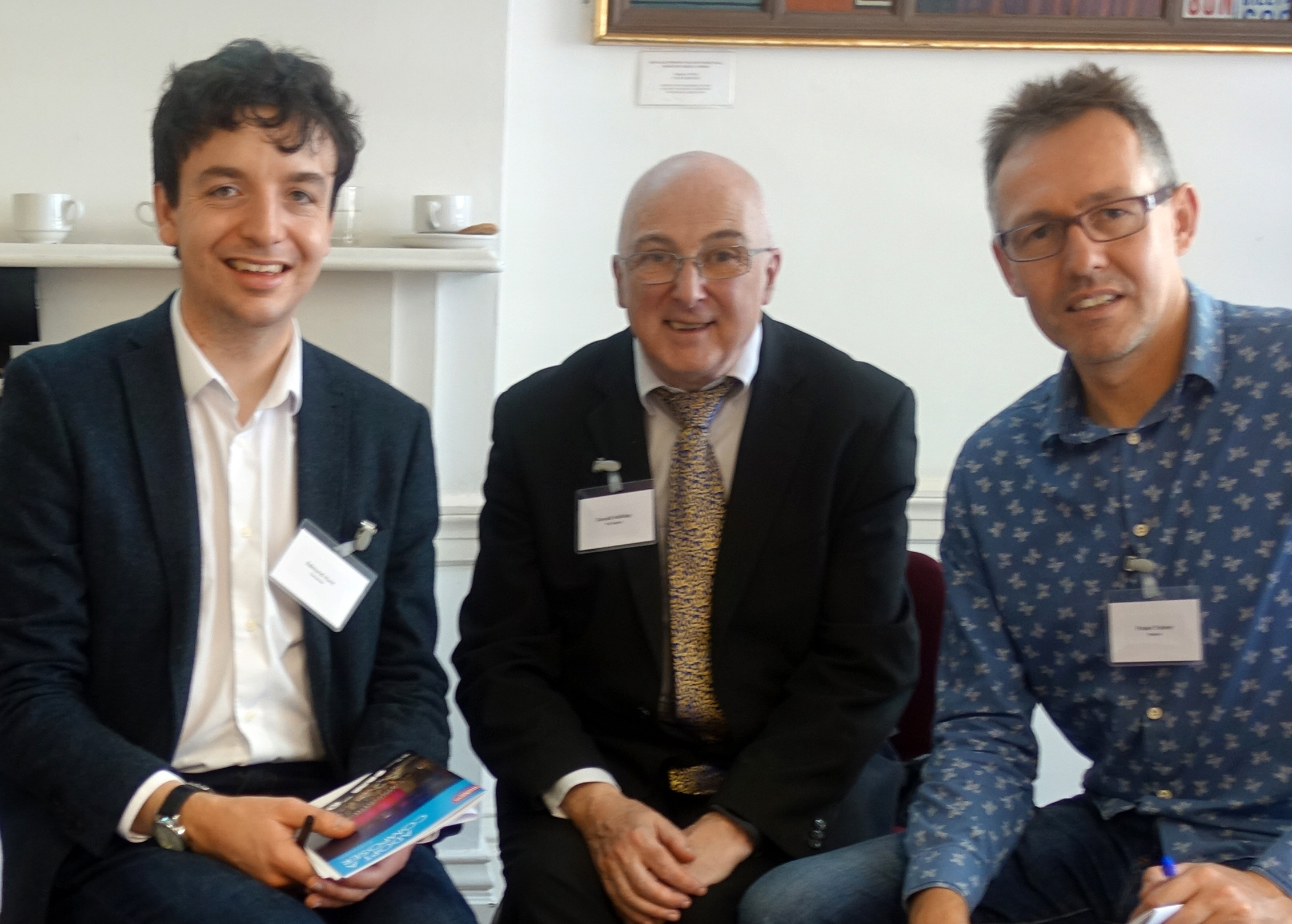 ---
Fantastic review for our Blackburn Cathedral concert
We are most grateful to John Bertalot for his great review of our concert in Blackburn Cathedral 22 July 2017. This was published in Music and More.
The Singers were Astounding
The Singers, from Newcastle upon Tyne, gave a fabulous concert in our Cathedral in July – we were all blown away by their impeccable unanimity, exquisite tone, blend, balance, sheer professionalism and whole-hearted dedication to the demanding music they sang.
Their conductor, Donald Halliday, is a distinguished Scottish musician who knows how to create musical magic. They recently sang in St Giles Cathedral, Edinburgh, Durham Cathedral, Southwark Cathedral, and made a return visit to Cologne Cathedral! They rehearse once a month in Newcastle – 2 hours on a Friday evening and 3 hours on a Saturday morning. They are very special.
The Singers (who include two former Blackburn musicians) were introduced by Samuel Hudson and then they sang a most demanding programme – a feature of which was being able to sing in many vocal parts with mellifluous tone clusters, very high notes for the sopranos (who all 'came in' absolutely together with apparent ease) – singing forte and also being able to sing so quietly that the very air of our cathedral was blest. It was a privilege to be there that evening.
They also sang two choral services for us the next day – our congregations were similarly blown away by their amazing singing.
Please put us on your touring list, blessed Singers, with Cologne Cathedral!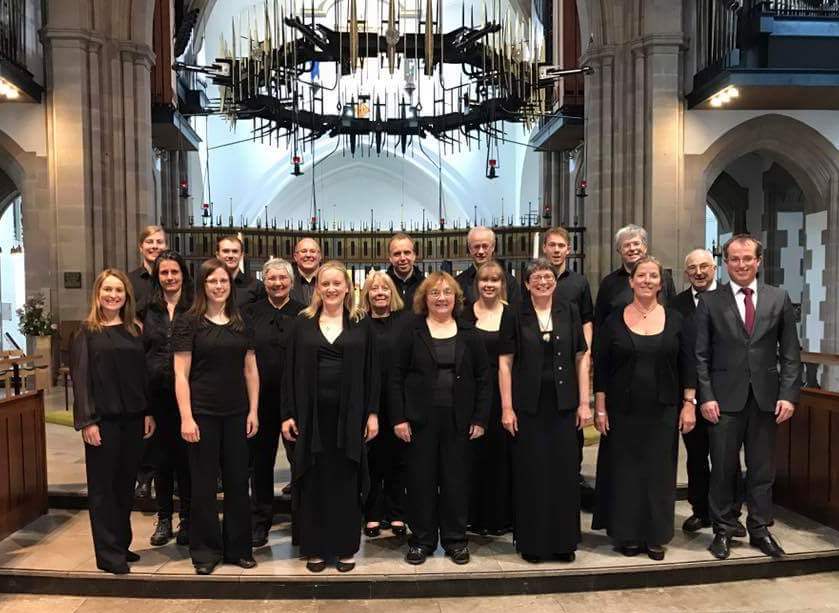 The music we sang was:
Music for a Summer Evening
O sing joyfully – Adrian Batten
Non moriar sed vivam – Martin Luther
Richte mich, Gott – Mendelssohn
Ave Verum Corpus – Peter Philips
The Gallant Weaver – James MacMillan
My bonny lad (Northumbrian folksong)
Stars – Eriks Ešenvalds
Amazing Grace – arr. Eriks Ešenvalds
Kyrie and Gloria from Missa Rigensis (2003) – Ugis Praulinš
The Road Home – arr. Stephen Paulus
Sunday morning service
Organist: Shaun Turnbull
Mass setting: Gloria, Sanctus, Benedictus and Agnus Dei only from
Missa Rigensis (2003) – Ugis Praulinš (b. 17 June  1957)
Communion motets:
Ave verum corpus – Peter Philips (c.1560 – 1628)
Panis Angelicus – César Franck (1822 – 1890)
Psalm 86 from verse 11 (chant H. Smart)
Choral Evensong
Organist: Shaun Turnbull
Introit: Open Thy Gates – Julius Harrison (1885 – 1963)
Preces and Responses: Kenneth Leighton (1929 – 1988)
Psalm 67 (chant J. Goss)
Magnificat and Nunc Dimittis – Stanford in A
Anthem: Blessed be the God and Father – S S Wesley (1810 – 1876)
---
The Singers visit St Giles Cathedral in Edinburgh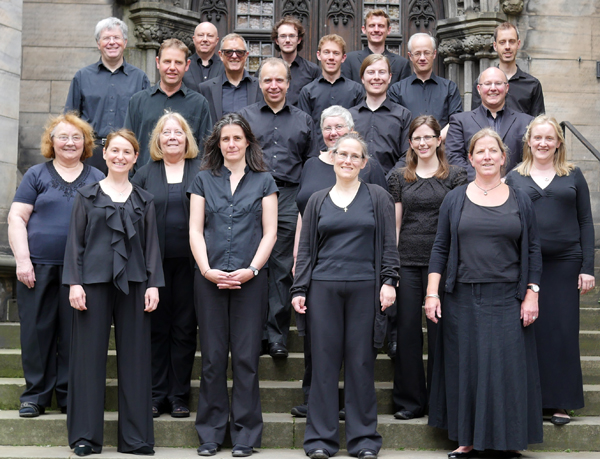 The Singers made a successful visit to St Giles Cathedral in Edinburgh to sing the morning services while the resident choir, The St Giles Singers, were on tour in the USA. The organist was Paul Stubbings, Director of Music at St Mary's Music School.
The music sung is available in the Service Booklets which can be downloaded using the following links:
10:00 Communion Service
11:30 Morning Service
---
Epiphany in Durham Cathedral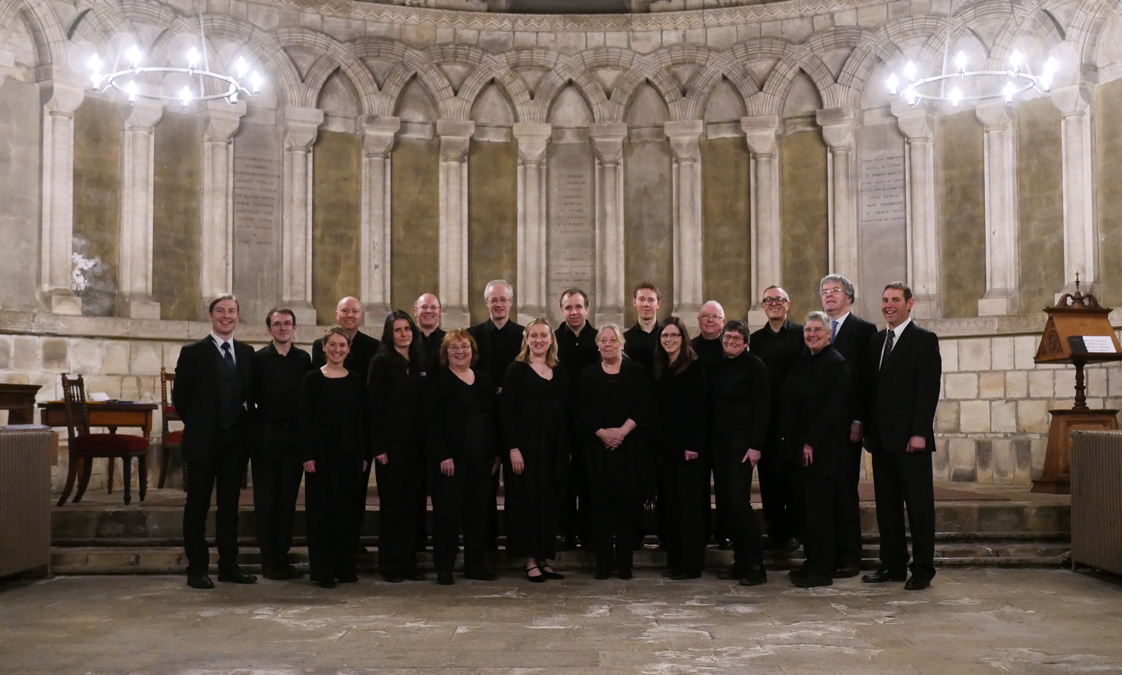 The Singers celebrated the end of the Christmas season by singing for the Annual Epiphany Service in Durham Cathedral, held on Friday 6 January 2017. This was a beautiful service which was warm and intimate despite the vast building that is Durham Cathedral. The service was very well attended and it was a real privilege to be able to play a part in it.
The music sung was:
Ugis Praulinš: Missa Rigensis – Gloria, Sanctus, Benedictus and Agnus Dei
Crotch Lo! Star led Chiefs
Organist: Kris Thomsett
Conductor: Donald Halliday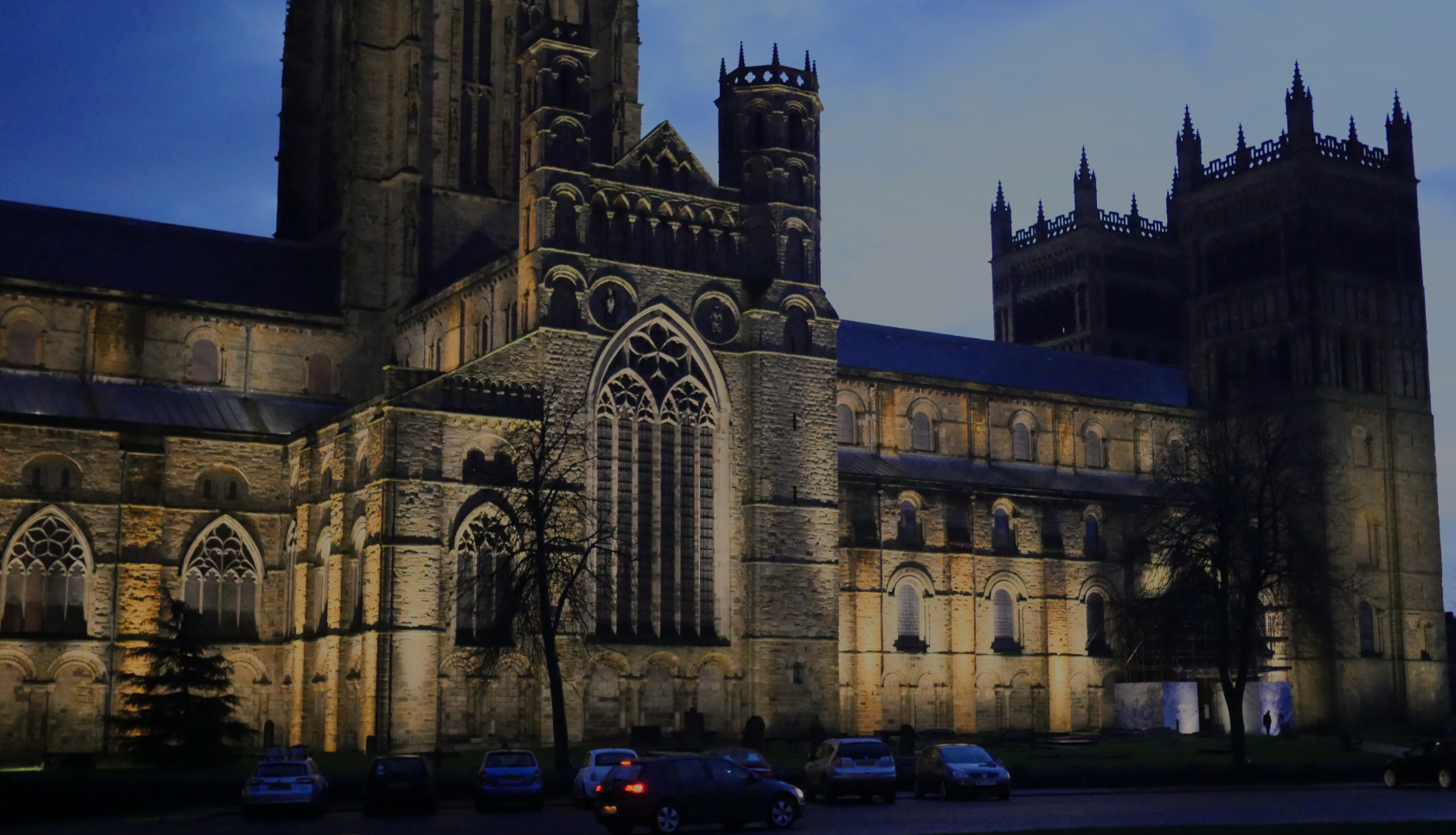 ---
The Singers launch their 2016 Christmas video
The Singers have launched their 2016 Christmas video – A Newcastle Christmas. We hope you enjoy our singing and the local scenes as Newcastle gears itself up for the Christmas season, and the choir prepares for its Christmas with The Singers concert in St George's Jesmond on Saturday 17 December. See the post below for more information. Enjoy!